SGS has extensive experience in offering consulting services in organisation development and research. These services have been offered since its inception in 2002. 
The key service offerings as illustrated include: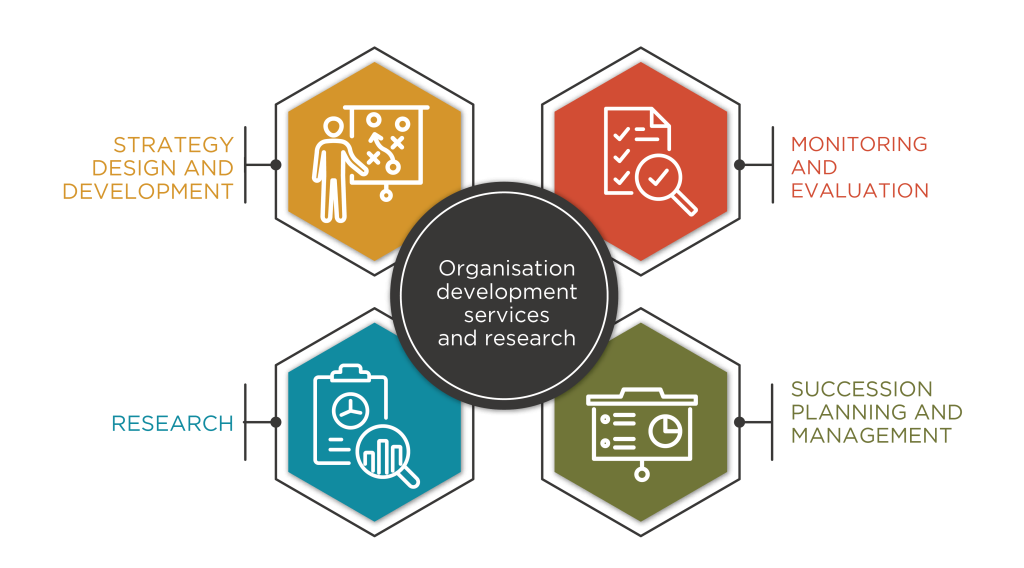 Strategy design and development – is the overall direction an organisation takes to achieve its programmatic success, taking account of the socio-economic, political, cultural and other contextual realities that confront it. Strategy defines how the organisation will utilise its resources, skills and knowledge of its employees, financial and material resources to meet its vision and goals. Strategy development is normally preceded by an evaluation process.
SGS has experience in results based management, outcomes mapping, the logical framework and other models, and developed strategies for CSOs, from local, regional to global, the UN system, Global Fund for HIV, AIDS and TB, and regional economic communities such as SADC, SADCPF and EAC.
Monitoring and evaluation –  is a systematic process of collecting and analysing data to assess the progress and effectiveness of a program, project, or policy, and to make evidence-based decisions for improvement and accountability purposes. SGS has acted as external evaluator to a number of organisations and also has experience in using the OECD DAC evaluation criteria.
Research – is a systematic and scientific investigation of a particular subject or problem, using a variety of methods and techniques to collect and analyse data, with the aim of generating new knowledge, solving problems, or improving existing practices. SGS has research experience that extends from longitudinal studies, participatory action research, quantitative and qualitative research approaches. 
Succession planning and management – is the strategic process of identifying and developing potential future leaders within an organisation to ensure a smooth transition of key roles and responsibilities when current leaders retire, resign, or otherwise leave their positions. SGS has done a number of governance and management development processes, including succession planning.