About SGS Consulting
Established 2002
SGS Consulting is a company registered as a closed corporation and functions as a social enterprise based in Johannesburg, South Africa. SGS serves to build the infrastructure for community philanthropy, facilitate organisational development services in the social justice sector, and education improvement and development. The geographic footprint of SGS programming extends to the SADC region. 
The work and interventions of SGS Consulting happens in deeply divided societies in the region, remnants of significant colonial disruption and institutionalized racial segregation. Transformation in the aforesaid contexts involves the eradication of systemic forms of domination and material disadvantage based on race, gender, class, patriarchy and other forms of inequality.  As a result, the establishment of a truly equal society and the provision of basic socio-economic rights, not only in Southern Africa, but continent-wide, are critical elements of transformation. These are the imperatives that drive the work and values of SGS Consulting, and its philosophical disposition.
The key programme areas include:
Community Foundation Development Programme 
Southern African Resource Hub
Education improvement and development
Organisational development services and research
Grantmaking
Our vision is to catalyse transformative social change in Africa, fostering a just, equitable, and sustainable society for all.
SGS Consulting is committed to promoting social justice, community empowerment through philanthropy, school improvement, and organisational development to create a more equitable, and inclusive society.
Welcome to SGS Consulting, where we operate within the complex landscape, marked by the legacies of post-colonialism and post-apartheid. In this challenging environment, our value system centers around fostering transformation and addressing the systemic forms of domination and material disadvantage that persist across various dimensions of inequality.
Quality
We always ensure we deliver work that both ourselves and clients can be proud of
Integrity
In all our interactions and business practices, we prioritize transparency, honesty, fairness and trustworthiness.
Advocacy
We are deliberate in supporting and maintaining our position on issues that matter to us.
Authenticity
As a team, we approach our work genuinely as the best representation of ourselves
Inclusivity
We are deliberate in creating environments where all stakeholders are able to fully participate regardless of gender, sexuality, religion, disability, age, nationality.
Generosity
We are inherently generous because we approach our work, partners and clients wholeheartedly.
Fun
We love what we do and cultivate a culture that encourages holistic fulfilment.
Welcome to SGS Consulting, where we operate within the complex landscape, marked by the legacies of post-colonialism and post-apartheid. In this challenging environment, our value system centers around fostering transformation and addressing the systemic forms of domination and material disadvantage that persist across various dimensions of inequality.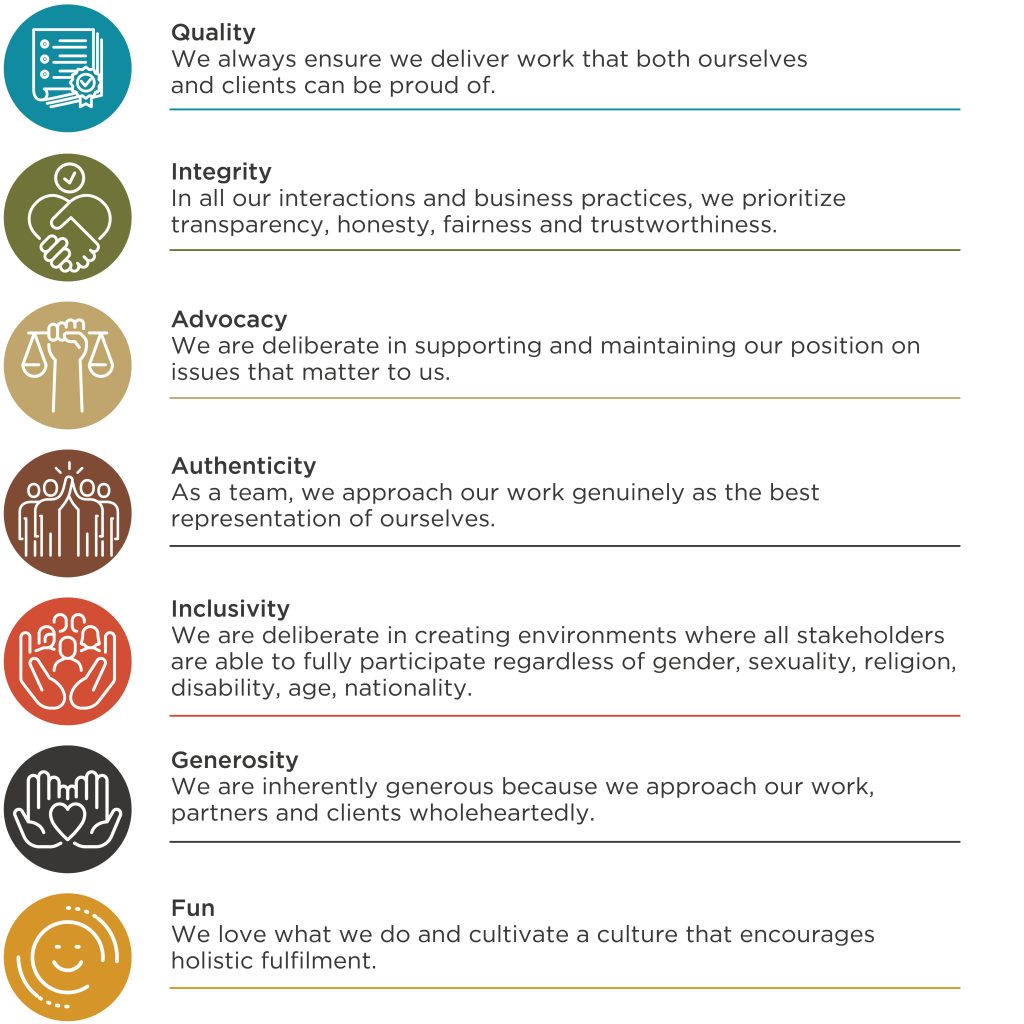 2002
Humble beginnings
SGS is a social enterprise that drives transformation in South African government departments and collaborates with the UN on HIV/AIDS initiatives. They work with the Global Fund, World Bank, and IPPF on transitioning from family planning to sexual reproductive health and rights in six countries.
2008
Technical Support
SGS created the TSDP (Technical Support and Dialogue Platform), a CS Mott Foundation funded platform for the facilitation of organisational development support for its grantees. The TSDP, among other, facilitated many organisational development interventions, hosted NADCAO before transitioning into CAOSA, AGN before transitioning to APN, the Southern African Philanthropy Leadership network, and the platform that brought together most of the museums in South Africa. Helps to grow the ABCD ecosystem in the country with the help of the Coady Institute, based in Canada.
2013
SGS joins with KST
SGS partners with KST (a partnership between Kagiso Trust and the Cyril Ramaphosa Foundation) on a District Whole School Development programme involving over 300 schools in two districts in the Free State province. The Free State Department of Education and the First Rand Empowerment Fund partner with KST, representing a combined financial investment of over R500 million over an eight-year period between 2013 to 2021.
2016
Constitutionalism Fund
SGS is instrumental in setting up the Constitutionalism Fund in South Africa, a 25 million USD collaboration fund between the Ford Foundation, Open Societies Foundation, and the Atlantic Philanthropies. The fund, launched in late 2015, with a limited lifespan of ten years, focused on supporting NGOs, CBOs and social movements advancing and supporting constitutionalism in the country. The first six years of which was co-managed by SGS Consulting.
2022
The Resource Hub
SGS introduces the Resource Hub, a Ford Foundation funded service offering organisational development services and strategic relevance support to grassroots organisations in the social justice space in the SADC region.
Meet the passionate team behind SGS
Years of experience
at SGS Consulting
What people say about SGS Consulting
"On behalf of the World Connect Malawi team, I would like to express  my heartfelt thanks for the great work and support you rendered to us  last week.  Your presence made a huge difference and I believe we  have planted a seed that will grow exponentially in the coming years. Feel appreciated".
"It is our hope that you arrived back home safely. Blessings to your families. It is not easy to express our heartfelt gratitude that expresses our feelings to be with you for almost 10 days in Tanzania. It was an educational, learning and joyful period for us all. You made our minds repositioned, and made our visions rethoutfully. It was a period to agree that change is inevitable and a new TCFN is possible. Thank you for your tolerance that is obvious to human-beings.  It is our expectation that in the very near future we will be proud with a new and unique strategic plan. These all are possible because of you!  We wish you all the best and hopefully, having the strategic plan is a beginning of the successful and sustainable TCFN operations. Again, thank you so much for staying and working with the TCFN team and welcome again to Tanzania".
SGS Consulting has been instrumental in ICA's growth and development into a Community Foundation of note on the African continent. We've made strong strides, we've built slowly but we built deliberately and with the support of SGS Consulting we have been able to put in place systems and procedures that have cemented the Community Foundation as one of the strong ones on our continent. We want to appreciate the ongoing and constant support of SGS Consulting over many years to ICA
Dear Shaun,
On behalf of the Board, the Conference Organizing Committee, and Members of the East Africa Philanthropy Network (EAPN), I want to express my deepest gratitude for your exceptional contributions as a Moderator at the 8th East Africa Philanthropy Conference.
Your ability to ignite, challenge conventional wisdom and offer fresh perspectives enable us to position the sector to think boldly and embrace innovative approaches, igniting a transformative wave of change beyond the conference. Your visionary leadership sparked meaningful discussions and planted actionable ideas that will shape the fabric of philanthropy in our region. You challenged long-standing paradigms and encouraged speakers and delegates to re-examine their roles, embrace collaboration, and prioritize sustainable impact; we still hope to partner in scaling this up.
Thank you once again for your noteworthy support and for igniting a new era of action, partnerships, and purpose-driven philanthropy. We look forward to the unlimited possibilities of future collaborations and continuing our collective pursuit of a brighter and more equitable society.